LOCATION 1: Bridgewater Town Garage
65 Schoolhouse Rd | Bridgewater Corners, VT 03035 [ MAP ]
Bagged Rubbish, Recycling & Food Scraps, Bulk & Metal only on Saturday
HOURS: Saturday | 8AM – 12PM

---

LOCATION 2: Bridgewater
7093 US Route 4 | Bridgewater, VT 03035 [ MAP ]
(Where the Maple Diner was, look for our signs!)

Bagged Rubbish, Recycling & Food Scraps only.
No Bulk, No Metal
HOURS: Wednesday | 2PM – 5PM
TEAM: Levi @ the Truck & Ben @ the cash register!

---

PRICING: Dependent on Program Director
LOCATION: Hartland Fire Station
50 VT Route 12 | Hartland, VT 05048 [ MAP ]
HOURS: Saturday | 8AM – 12NOON
TEAM: Ben and Levi @ the Truck & Gabby @ the cash register!
Bagged Rubbish, Recycling & Food Scraps, Bulk & Metal

PRICING/ DETAILS:
Pricing varies based on size, weight and type of item, please ask our Fast Trash team to help you with any questions!

Bagged Rubbish:
$5 minimum* per bag – up to 30lbs
$6 minimum* per contractor bag (42 gallons and up)
$9 minimum* per barrel of rubbish
*Minimum is based on weight and contents
Recycling Requirements Detailed in Following Tab
Bagged Food Scraps – Processing Fee is Included in Bag Pricing:
$3 per 6-7 gallon bag

$5 per 12-16 gallon bag
You must use our bags to bring food scraps to our programs
Miscellaneous:
C&D (Wood, Drywall, etc.) – price based per cubic yard (3′ x 3′ x 3′ or 27 cubic feet)
Bulk, Metal, Beds, Tires, Appliances, etc.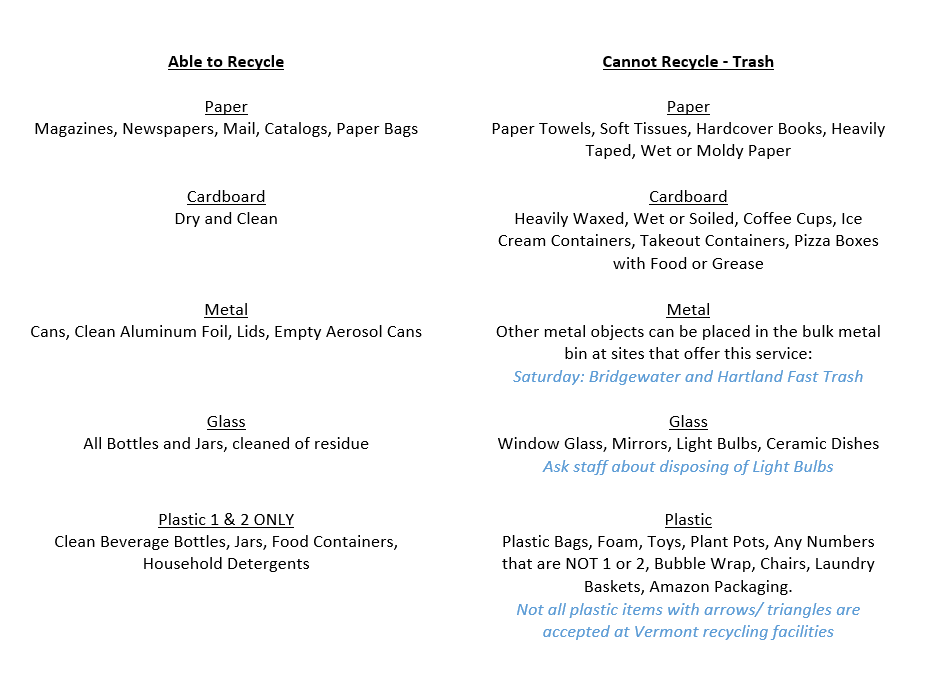 When in Doubt, Throw it Out!