Food Scraps
A.B.L.E. Compost Collection
The State of Vermont has chosen to continue with the implementation of this program on July 1, 2020. The pandemic has affected the education efforts that would have taken place in the springtime to help prepare for this ban. We understand you have questions. No one at Fast Trash is going through your bagged trash. It is going to take time to work out what will be the right solution for your household.

COMPOSTING

AT YOUR HOME

or find others to compost with.
FOOD SCRAP BAGS
You purchase clear, leak resistant bags at any Fast Trash location.
$3 – 6-7 gallon bag  |   $5 – 12-16 gallon bag
Please put in only food scraps, no other plastic wrap or bags are acceptable in the bags with food waste.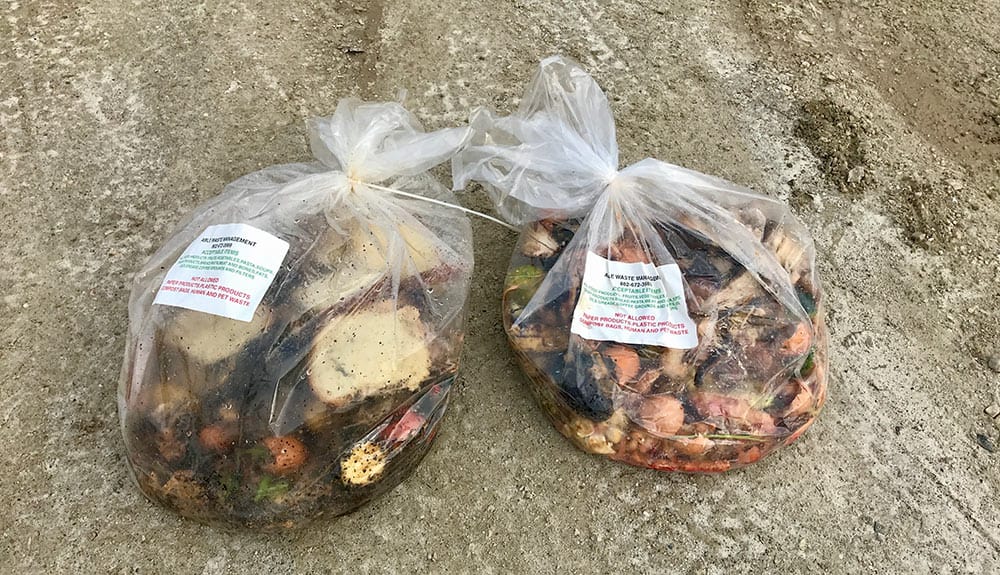 Fruits & Veggies
Dairy Products
Bread, Rice & Pasta
Fats, Oils & Grease
Sauces & Soups
Coffee Grounds and Filters
 Meat & Bones
Yard Debri (Leaves,Grass Clippings,Weeds, Brush Less than 1″ in Diameter)
THE BAD STUFF
Put in the trash!
Food Containers
Human Waste
Pet Waste
Tissues & Paper Towels
Toilet Paper
Biodegradable Plates
Utensils & Bags
Paper or Cardboard with Food Waste
COMPOSTING BY SERVICE TYPE
FAST TRASH
Food scraps bag drop off is available at any of our Fast Trash locations. This is not a free service.
Bag Pricing:
$3 per 6-7 gallon bag  |  $5 per 12-16 gallon bag
Food scraps must be in bags purchased from ABLE. 
NO LOOSE FOOD SCRAPS ACCEPTED.